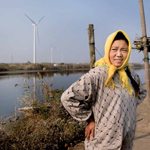 The Chinese economy is growing at a phenomenal rate. In Beijing, from the shiny, high-rise office buildings to slick underground trains, China's economic expansion is clear. And the Chinese wind power sector has surged too, with over 62 GW now installed, making it the world's number one.
But growth rates stabilised a while ago, and cracks began to appear. In 2010-11 the shine on Chinese wind power started to tarnish as it emerged that accidents were happening, grid connection rates were poor and quantity had clearly been given the upper hand over quality.
Improper safety procedures had slipped under the radar, employees did not receive adequate training and poor management was also considered a problem, several Chinese sources told Wind Directions magazine.
The government quickly took more control and passed stricter safety measures, and the worst of the situation seems now to have passed.
Moreover, while current Chinese wind energy technology lags behind its European counterparts, Europe needs to keep a sharp eye out as the Chinese manufacturers begin to expand beyond their traditional domestic focus. In 2011 China exported 220 MW of wind power capacity – nearly 15 times more than in 2010.
Read the full article in the latest Wind Directions.