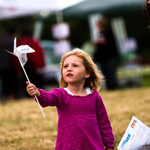 By Johanna Cafferkey, Irish Wind Energy Association
IWEA are hosting three KidWind courses starting the week of the 11 June. KidWind Ireland is a project that seeks to support teachers all over Ireland to access training programs and equipment in wind energy. The primary aim of the KidWind program is to train and equip teachers at primary and second level to teach their own students about wind energy and provide knowledge about the industry and topic.
IWEA is also celebrating safety in wind on 14 June in Dublin with the 2nd annual Health and Safety event.
Global Wind Day specific activities will commence on the 1st June continues until the 26th June and will include a number of surprises.
Seven organisations are opening 10 sites across Ireland and have invited families and schools to attend and learn about Wind Energy.
RES said they are delighted to be welcoming pupils and teachers from 14 schools to visit four of their Northern Ireland wind farms in the coming weeks. "These visits underline both our support for Global Wind Day and to continuing to build close relationships with the local community," RES said.
Bord Gáis Energy is providing local school children with the opportunity to visit Knockawarriga wind farm in County Limerick. The site tour will incorporate both an educational and fun element.
The Airtricity Family Fun Day is being held to celebrate Global Wind Day 2012, the annual celebration of wind energy which promotes wind energy as a clean, infinite, non-fossil fuel energy source. Visitors embark on escorted site tours to Slieve Kirk Wind Farm where they can experience energy made better at close range, and explore how a wind turbine works from inside the base of a turbine.
Other activities include school tours, BBQ's, bouncing castles, face painting and pony rides.
For information on the activities across Ireland please see our website www.iwea.com