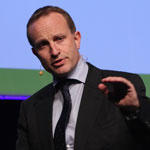 Renewable energy targets for 2030, investments in electricity grids and the continuation of stable national support schemes for wind power – these were three of the factors that wind industry CEOs told Martin Lidegaard, Denmark's Energy Minister, will be key to the wind industry's development in coming years.
"We need to know what is going to happen," Jan Kjaersgaard, CEO of Siemens Wind Power said at a roundtable debate held at EWEA 2012 in Copenhagen. Today the industry has target certainty – with the EU's target to increase the share of renewable energy up to 20% by 2020 – but after that there is a political vacuum.
Christina Grumstrup Sorensen, Senior Vice President of DONG energy said that a 2030 target for renewables would provide a "clear direction" to spur development in the industry.  Ian Mays, CEO of RES, said that we need challenging targets to set the future investment framework, and for governments to plan how they will support renewables.
The European Commission has yet to clearly propose a renewables target for 2030 but the idea is supported by Climate Action Commissioner Connie Hedegaard and Energy Commissioner Günther Oettinger has called for a decision by 2014.
Wind costs will fall
Lidegaard outlined his country's commitment to renewable energy, stating that the only way forward is to rely on home-produced resources of energy – like wind – instead of fossil fuels which are unstable and the prices are always going up.
Mays said that if you plotted the cost of conventional fossil fuels going forward you would see a steep upwards trend. By contrast, the cost of wind is flat.  "In due course wind will be cheaper than gas," he said.
Talking of the need for national support schemes, Mays said that there's a slight premium to be paid today, but renewables will be cheaper in the future. The cost of wind falls by six to eight percent for every doubling of capacity, he said.
Ioannis Tsipouridis CEO of PPC the biggest power producers in Greece, pointed out that fossil fuels have received six times the amount of subsidies compared to renewables. It's a joke that fossil fuels are cheaper than renewables, he said.
Fixing the Emissions Trading System
Oystein Loseth, President of Vattenfall said that the answer lies in Europe's Emissions Trading System (ETS). With a higher carbon price, the ETS would promote renewables, he said. When the system was first conceived the price of carbon was around €30 a tonne, today it has tumbled to around €6-7 per tonne. The lack of predictability of the price of carbon under the ETS is a problem, Ditlev Engel, CEO of Vestas Wind Systems noted.
Loseth also said that national support schemes are needed in addition to a higher carbon price. "If subsidy schemes disappear we will not invest," he said. Stephan Ritter, General Manager of GE Renewables, added his voice to the call saying that changes to subsidy schemes, especially retro-active changes, should be stopped.
How much should the EU pay for energy imports?
EU citizens are paying around €700 each per year for energy imports and Engels questioned whether there should be a limit on the continents total energy import bill. When does the energy import bill hurt too much? he asked.
Wednesday has certainly been an interesting and busy day here at EWEA 2012. Look out for coverage from the last day of the event tomorrow, and in case you've missed anything this blog will publish an event round-up at the end of the week.