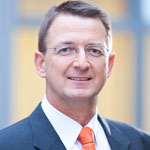 With just over two weeks to go before the biggest gathering of wind energy professionals takes place in Copenhagen at EWEA 2012, Felix Ferlemann, CEO of Siemens Wind Power and Chair of this year's event, tells the EWEA blog of his ambition for the industry and of the challenges that lie ahead…
Where and what are the biggest challenges Siemens Wind Power is currently facing?
The biggest challenge we face is that we have to bring down the cost of wind power. We need to make it competitive with conventional energy sources, because price pressure is growing and wind power cannot be dependent on subsidies forever. The industry will need to invest massively in innovation and industrialisation. But these investments will only be realised if companies have a stable and profitable pipeline of projects. That is our main message to policy makers: We need reliable support schemes so we can make wind power competitive within the current decade.
What do you think are the three main barriers to the development of wind energy in Europe?
In my opinion, there are three areas of particular concern that need to be addressed:
1.    We need to establish a long-term EU target for renewable energy. One that goes beyond 2020, which will ensure that investments in wind power will continue to be made now and in the years to come.
2.    We need to develop a grid infrastructure that enables us to distribute wind power from future onshore and offshore plants to consumers.
3.    And we need to reduce administrative hurdles, so we can speed up the deployment of wind power.
As Chair of EWEA 2012, you will be overseeing one of the biggest gatherings of wind energy professionals in the world. What message would you like to give them?
I am calling on all leaders of the wind industry, to all politicians, to all existing and future investors, and to society as a whole: participate in this historic project of making wind power the most attractive energy source in the energy mix. We have the right technology at hand and we can deliver. EWEA 2012 is an important event to move wind power forward. I encourage all participants to use the time for sharing ideas and to make the most out of these four days.
Innovation is the key theme of EWEA 2012. Why do you think the wind industry needs to innovate? Where should the wind industry be focusing its attention?
The key levers for reducing the costs of wind power are innovation and industrialisation. Furthermore, the industry needs to make our supply chain structures leaner and more efficient. Here, we can learn a lot from the automotive industry where I come from. But just focusing on wind turbines will not be sufficient. We need to look at the whole value chain, including foundations, transport, grid connections, etc. Only by optimising wind power across the whole value chain can we reach wholesale parity with fossil fuels.
What are you most looking forward to at this year's annual event?
Aside from serving as Conference Chair of EWEA 2012, I am looking forward to seeing the leaders of the European wind industry alongside the policy makers. I am thus convinced that this year's event in Copenhagen will drive the dialogue between industry and politics forward. And I am curious to learn about new and fresh ideas from all sides that will allow us all to make the transition to a new age of energy.
Looking forward to 2050, what's your vision for wind power in Europe and around the world?
Simply put: wind power will have become the world's most attractive energy source. By then, the question about wind power will no longer be "How can we afford it?", but "How can we not afford it?"  And I'm confident that we will reach this target earlier!
Are you keen to hear more from Felix and other high-level wind energy professionals? Register to attend EWEA 2012 here.