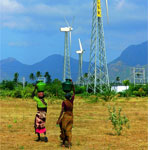 A new study is being greeted excitedly in India as it shows the potential for onshore wind energy in India is up to 30 times greater than previous government estimates.
The study, from the Lawrence Berkeley National Laboratory in California, has found that the country's total wind potential ranges from 2,006 gigawatts (GW) for 80 metre hub heights to 3,121 GW for 120 metre hub heights.
The current government estimate for wind energy is India is 102 GW, which would only be able to provide the nation with up to 8% of its projected electricity demand by 2022 and 5% by 2032. The rise in projected wind power potential is due to better technology, more advanced mapping techniques and a higher than previously thought land availability.
"Given these new estimates, the availability of wind energy can no longer be considered a constraint for wind to play a major role in India's electricity future," according to a press release from the Lawrence Berkeley National Laboratory. "This landmark finding may have significant impact on India's renewable energy strategy as it attempts to cope with a massive and chronic shortage of electricity."
Berkeley Lab scientist Amol Phadke, the lead author of the study, said the findings show that wind power is one of the most cost-effective renewable energy sources commercially available in the Asian nation.
"The cost of wind power is now comparable to that from imported coal and natural gas-based plants, and wind can play a significant role in cost effectively addressing energy security and environmental concerns," Phadke was quoted as saying.
The 24-page study found that more than 95% of the nation's wind energy potential is concentrated in five states in southern and western India – Tamil Nadu, Andhra Pradesh, Karnataka, Maharashtra, and Gujarat.
Noting that India's electricity demand is expected to grow rapidly from 813 GWh in 2007-08 to 2,104 GWh in 2020, the study said wind energy is one of the cheapest forms of renewable energy available in the nation.
It also said that wind power in India — the world's largest democracy and, with more than 1.2 billion people, the second most populous nation — "is a very promising additional option to meet electricity shortages, especially in the short to medium term."
India, according to the Global Wind Energy Council (GWEC), installed 3,019 MW of new wind power capacity in 2011, bringing its installed total to 16,084 MW.
After China, India had the second highest amount of wind power in Asia by the end of last year and was fifth in the world in terms of cumulative capacity, GWEC statistics show.