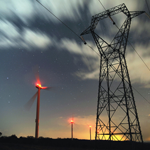 With more than 450 people dying as of Tuesday because of the freezing temperatures currently sweeping Europe, news reports that Russia has reduced its natural gas supplies to some European countries once again highlights the problems of security of supply of imported fossil fuels.
European policy makers can't do anything about the punishingly cold polar air that is expected to hover over the region for at least another week, but they can make sure that proposals currently before the European Parliament and Council of Ministers to speed up the permitting, and assist the financing, of grid extensions and upgrades are approved without being watered down. They can also put the right policy framework in place up to and beyond 2020 in order to boost the supply of domestically produced renewable energy.
Politicians must certainly be aware, as the Financial Times reported that Russian gas deliveries to Germany and Italy were down by 24% and Austria by 30%. The paper also reported that the wholesale price of gas in Germany and the Netherlands rose by 18%. Reuters has reported, that "Russia's supply of natural gas to Bulgaria, Greece, Turkey and Macedonia has dropped by more than 30% as freezing temperatures bolster demand for heating in Russia and across Europe."
While Europeans battle against temperatures as low as -35 C, officials should be stepping up trans-national and regional plans to upgrade and expand grid systems so the networks can deal with increasingly larger amounts of electricity coming from wind power and other sources.
After all, as the European Wind Energy Association (EWEA) reported earlier this week, the 93,957 MW of installed wind capacity in Europe by the end of last year is already enough to supply 26% of Denmark's electricity, and 16% in Spain and Portugal.
The need for grid reinforcements is also supported by ENTSO-E, the European Network of Transmission System Operators for Electricity. ENTSO-E President Daniel Dobbeni said that "under normal winter conditions, the balance between demand and supply is not considered at risk with cross border transfer capacities sufficient to provide imports whenever needed." He added that "it is when the winter conditions become extreme and widespread that there is a significant risk to security of supply in some major European areas."
ENTSO-E also said that despite severe winter weather, grid reinforcement is urgently required "to accommodate the major changes in generation observed all over Europe." Dobbeni noted the proposed Energy Infrastructure legislative package will be key to speeding up the approval process for infrastructure.