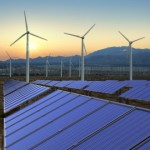 For decades traditional fuels have enjoyed global dominance on the energy market virtually unchallenged, but that situation is changing. News out this week shows that global renewable energy deals surged last year by a massive 40%, triggered by the Japanese nuclear disaster and buoyed by an increase in billion dollar transactions.
The finding is contained in a PriceWaterHouse Cooper report published on Monday which reveals that renewable energy deals hit a record high of $53.5 billion in 2011 – compared to $38.2 billion in 2010.
"Deal-making in the renewables and energy efficiency sectors is intensifying as the sector evolves. Sustained high deal numbers and record total value reflect a maturing of the sector," Paul Nillesen of PwC said. "The trend is all the more noteworthy given the uncertainty in the market and in government policies on renewables. We believe that deal flow will continue to be significant in the medium term,' he added.
The entrance of pension and insurance funds in offshore wind in Denmark confirms the trend towards a maturing market and the creation of secondary markets, with assets sold for a second or third time, PwC said. The group predicted that as offshore wind projects increase in size, the need for a strong balance sheet to support the technology becomes more important. "This creates scope this year for a landmark wind power combination between players from one or more of Asia Pacific, Europe and North America," Ronan O'Regan of PwC said.
But PwC's report did not come without warnings. Continued Eurozone uncertainty could hamper heals in 2012 and US and European manufacturers are coming under cost pressures, it said. However, Nillesen said that waiting for things to improve is not necessarily the right strategy: "If a deal is highly strategic, and mission critical, then parties will still feel it is worth doing on the right terms."