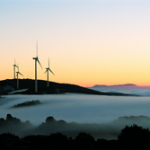 Much in the news this past week was a major new study conducted for Massachusetts which found there is little or no evidence that wind turbines cause so-called "wind turbine syndrome" that some critics have been employing in their anti-wind campaigns.
Health and engineering experts who completed the study for the US state's Department of Environmental Protection and Department of Public Health were also dismissive of previous work done by Dr. Nina Pierpont who has claimed that vibrations and noise from wind turbines cause an array of detrimental health effects.
The panel said Pierpont's work does not identify any direct links between wind turbine exposure and health effects. "Given this, the very term 'Wind Turbine Syndrome' is misleading as it implies a causal role for wind turbines in the described health symptoms," added the panel, which reviewed existing scientific studies on health and wind turbines.
Responding to the panel's findings, the American Wind Energy Association (AWEA) said the independent study refutes incorrect claims made by anti-wind critics. "As the report ably demonstrates, wind turbines are safe and the health-related claims of project opponents are unsubstantiated," said Tom Vinson, Director of Regulatory Affairs for AWEA.
A blog posting for Boston Magazine related to the new study carried the headline "Wind Farm Opponents are Hypochondriacs." The posting said that while the study conceded noise from turbines could possibly disrupt sleep, it found no adverse health affects. "Rather, it seems, the neighbors are suffering from a classic illness: NIMBYism," the posting noted.
In its conclusion, the panel noted "the weight of the evidence suggests no association between noise from wind turbines and measures of psychological distress or mental health problems."
Continuing, the panel said "none of the limited epidemiological evidence reviewed suggests an association between noise from wind turbines and pain and stiffness, diabetes, high blood pressure, tinnitus, hearing impairment, cardiovascular disease, and headache/migraine."
The panel also found "there is no risk of seizure from shadow flicker caused by wind turbines."
The new study echoed conclusions made in December by Dr. W. David Colby, the acting medical officer of the Ontario municipality of Chatham-Kent, who announced there is no scientific evidence of a link between wind turbine sound exposure and health problems.
Colby said that the topic of wind turbine noise has become complicated because of a huge misinformation campaign.
He said that while wind power opponents make claims about sickness caused by turbines, 10 previous reviews have confirmed there is no direct adverse health effects from wind turbines when sited to comply with Ontario's noise regulations.