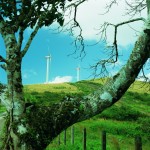 While the US experienced a significant dip in new installed wind power capacity last year due to the ongoing financial crisis, polarised politics and concerns over federal tax incentives, the industry has robustly bounced back, the American Wind Energy Association (AWEA) reports.
Not only that, but wind energy is now more affordable than ever as new installations are saving customers money on their electric bills while utilities rush to lock in long-term favourable rates.
"This is what a successful business looks like with stable tax policy," Denise Bode, CEO of AWEA, said. "Utilities are locking in a great deal for their electric customers while it's available. We're keeping rates down all across the U.S."
AWEA noted the US wind industry installed just over 1,200 megawatts (MW) in the third quarter, and about 3,360 MW on the year so far — but has more than 8,400 MW under construction. That is more than in any quarter since 2008, as the federal Production Tax Credit has driven as much as €14.5 billion a year in private investment, AWEA said.
"Traditional tax incentives are working," according to Bode. "There's a lot of business right now, people are employed, and manufacturers are looking to expand here in the US."
The release noted that the US wind power sector installed 1,204 megawatts (MW) of electrical generating capacity during the third quarter versus 671 MW during the same period last year, up 79%.
Year-to-date installations of 3,360 MW exceeds installations as this point in 2010 by 75%, AWEA added.
"The US wind industry now totals 43,461 MW of cumulative wind capacity, able to supply electricity to the equivalent of 10 million American homes and producing 3% of the nation's electricity through July of 2011," AWEA said.
The Global Wind Energy Association (GWEC) has reported that total global installed wind energy capacity reached 194.4 GW by the end of last year. China was the world's national leader last year with cumulative installed capacity of 42.3 GW, the US came in second at 40.1 GW and Germany was third with 27.2 GW. Spain, Italy, France, the UK and Denmark were also in the top 10.
As a region, GWEC noted that Europe was the global leader with cumulative installed capacity of 86 GW at the end of 2010, Asia was second with 58.6 GW and North America was third with 44.1 GW.