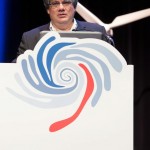 Cost cutting, calls for innovation in the industry and calls for industry cooperation across Europe – these were just some of the hot topics at the opening session of the European Wind Energy Association's OFFSHORE 2011 conference and exhibition in Amsterdam today. Ian Marchant, CEO of SSE Renewables and chair of OFFSHORE 2011 said that the offshore wind industry is now growing up. It was born five years ago and now, with 140 GW online, planned or consented, the industry is entering a new phase. 'But we need to be bolder', Marchant said.
Poul Nyrup Rasmussen, former Prime Minister of Denmark urged the industry to cooperate across Europe by creating one think tank to work on how to allocate the industry's resources. He said that 'governments should be more ambitious with clear [renewable energy] targets for 2030, financing and planning.' Jan Kjaersgaard, CEO of Siemens wind power said the industry's high ambition can be done. But 'we must work together and think outside of the box' on how cost reductions in offshore wind energy can be achieved, he said.
Mike Winkel, CEO of E.ON climate and renewables, sounded a strong note of caution on the importance of cutting costs, 'otherwise we will kill our industry in the long run,' he said. Marchant said the industry should aim at a cost per MegaWatt hour of 100 Euros by 2020.
Shifting away from costs, Eddie O' Connor, CEO of Mainstream renewable power, talked of the massive job creation benefits ready to be unlocked in offshore. By 2030 it is predicted that there will be 300,000 jobs in the sector.
In a video address to the audience, Gunther Oettinger, European Commissioner for energy, said the EU backs offshore wind. He called on the industry to become a 'beacon of competitiveness' that leads us out of the current financial and economic crisis.
Fergus Ewing, Scottish minister for energy, told a packed auditorium of Scotland's ambition of 100% renewable electricity by 2020. Not only will Scotland be able to meet its domestic electricity demand with its own power source, but offshore wind will provide export opportunities too, he said.
Arthouros Zervos, President of EWEA summed up the mood here in Amsterdam nicely: 'offshore wind will expand 10 times this decade, we cannot afford to miss this.'
Keep following this blog for the latest updates from OFFSHORE 2011