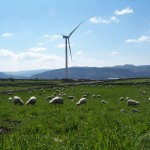 Austria will lead Europe when it comes to sourcing the highest percentage of electricity from renewable sources in 2020, according to recent analysis carried out by EWEA. The small, mountainous nation will source an impressive 71% of its electricity from renewables.
Next in line will be Sweden – set to source 63% of its electricity from renewables by 2020, followed by Latvia – 60%, Portugal – 55% and Denmark – 54%. At the other end of the scale, Poland, Estonia, Cyprus, Malta, the Czech Republic, Luxembourg and Hungary are all set to cover less than 20% of their electricity needs with renewable electricity.
The overall figure for the EU is 34% by 2020 – which puts us on track to meet the agreement struck in 2008 to cover 20% of our energy needs with renewable sources, meaning 34% for the electricity sector.
Wind to lead green transformation
Looking at the breakdown of renewable energy technologies reveals that wind power will lead this progressive transformation to green electricity – in 2020 14% of the EU's electricity will be wind-powered, followed by hydro (10.5%), biomass (6.7%), solar PV (2.4%), Concentrated solar power (0.5%), geothermal (0.3%) and tidal/wave/ocean (0.2%).
By 2020 the most wind-powered nations in the EU are expected to be Ireland, Denmark, Greece, Portugal, the UK and Spain – a change from the picture over recent decades which has seen Denmark, Germany and Spain at the top of the wind-power league.
From now until 2020 another big shift is likely to occur – the offshore wind energy sector will increase in relation to its onshore sister. Today 5.8% of the EU's electricity is met by wind power with onshore wind accounting for 5.4% and offshore just 0.4%. By 2020, onshore will meet 10% of the EU's electricity needs, while offshore will meet 4%.