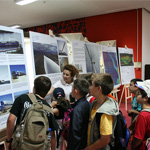 By Mariyana Yaneva, Bulgarian Wind Energy Association
This year, the Global Wind Day was celebrated in Sofia for the first time. The Bulgarian Wind Energy Association organized an exhibition of photos, charts and technical instruments to present the modern wind industry, its heritage from the past and the opportunities wind power holds for the future.
The exhibition took place at the National Polytechnic Museum in Sofia. The official opening on June 15 attracted the attention of local print and online media as well as two TV channels and the Bulgarian National Radio (BNR). During its 8-day display we think the exhibition was attended by more than 400 people.
Both, children and grown-ups enjoyed the exhibition and learned interesting facts about wind energy. Also, every visitor had the opportunity to test the newly-acquired knowledge at a quiz and win prizes.
The exhibition will continue its tour throughout the year and will be displayed on other venues in Bulgaria.