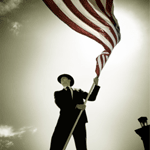 The US wind power industry is expected to experience the second highest rate of revenue growth when compared to other national industry sectors between 2010 and 2016, according to a new market research report which tracks shifting economic data.
Released on Monday, IBISWorld's report on the top 10 fastest growing American industries forecast that revenue generated by the wind energy sector would grow 11.2% in the next five years.
The report said Voice Over Internet Protocol Providers would be in first place with a growth rate of 17.4%. Biotechnologies placed third on the list with a forecast revenue growth of 9.6%.
Besides wind power, the only other renewable energy that also placed in the top 10 for revenue growth by 2016 was solar power, in seventh place, at 7.9%.
Noting that the recent recession "wreaked havoc on a myriad of businesses across the US," the report said that the American wind power sector had 2010 revenues of €2.37 billion, despite the economic downturn, and grew at a rate of 16.9% in the past decade.
In an earlier report published in March, IBIS said that the US wind power industry should do well in the next five years as the economy improves, and increased energy self-sufficiency and reducing greenhouse gas emissions remain high on the agenda.
"Combined with favorable government assistance, the industry will ride the high winds as the economy kicks back in gear and electricity demand rises," the report said. "The average annual growth in industry revenue is expected to be strong, at about 11.2% over the five years to 2016 to [€4.47] billion."
The US wind power success story mirrors the continuing success of wind power in Europe – where the industry was born.
9.3 gigawatts (GW) of new wind power capacity was installed in the EU last year, reaching a total of 84 GW by the end of 2010, according to the European Wind Energy Association, which has also noted that the total investments in new wind power plant reached €13 billion.
Not only that, but Europe has long been a world leader in both onshore and offshore wind power and many European companies continue to do an excellent business in the wind energy sector in growing markets in and outside of the EU.
If any readers are aware of European studies on industrial growth similar to the US one mentioned here, feel free to comment below.