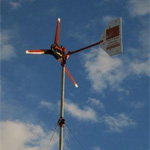 Here at the European Wind Energy Association we often talk about the power of wind energy to fight climate change, create jobs and improve energy security at a European level, but we rarely take time to reflect on how wind energy can directly impact the lives of people in the poorer regions of the world.
Wind energy can help turn around the fortunes of local communities by doing something as simple as providing a continuous source of water for irrigation. In Mipandi, situated in the Northern Province in eastern Mozambique, wind energy is set to do just that.
It's an area where 22.5% of children under five are malnourished, according to the United Nations Human Development Index, and locals refer to the dry season – from October to January – as the "period of hunger". A drought one year can lead to crop failure and hunger nationwide.
In May this year work will start on the installation of a 1kW wind turbine, alongside 200w solar PV panels in Mipandi to pump some 5,500 litres of water per day which will then be used to irrigate agricultural land improving yields and, critically, enabling out-of-season harvests.
Renewable World, an organisation set up in 2007 to act as the link between the European renewable energy sector and energy-poor communities who are most vulnerable to climate change, is the driving force behind the project.
"The Mipandi wind-solar hybrid power irrigation system is of critical importance to the local community, both in terms of improving the food security and nutrition of the local population and in the creation of increased income generation opportunities," Melanie Matthews from Renewable World said.  Around 900 people in the area, or 150 households, will benefit from the project, she added.
EWEA has closely followed the project and earlier this year donated €9,000 – one Euro for every attendee of the EWEA 2011 Annual Event. "Support from EWEA is vital to this project as it will provide more than half of the funding needed and means that we can commence the project on schedule," Matthews said. "We aim to fundraise for the remaining costs from other companies within the renewable energy industry, and being able to demonstrate a lead gift from a well known and respected source in the industry is extremely beneficial to our communications and fundraising proposals," she said.
Providing food for the local community throughout the year is a chief aim of the project, but so too is the chance for the community to generate income by selling its produce. With the water this project will provide, farmers can grow high-value beans, tomatoes, carrots, potatoes, onions, garlic and lettuce crops. The wind turbine could also generate enough energy for households to charge batteries for lighting and to operate a mobile phone charging unit.
According to Matthews, Mipandi is just the beginning. She envisages similar projects in other deprived and impoverished communities in Mozambique. "We are extremely excited about the potential this project has to deliver in terms of improved livelihoods and living conditions in the area. As these impacts are realised, Renewable World hopes to be able to continue to improve the lives of communities living in such rural areas."
More on Renewable World: www.renewable-world.org