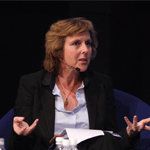 "When we talk about the electricity sector, not the total energy consumption, but electricity, than I think by 2050 we'll have 100% renewables in Europe. I think that is perfectly doable," said EU Climate Action Commissioner Connie Hedegaard today at the EWEA 2011 Annual Event.
She was speaking at a press conference held straight after a panel discussion on a 100% renewables vision for 2050. The panel discussion was marked by heated debate on the role of the EU's Emissions Trading System (ETS).
While the Commissioner argued that the ETS's role in contributing to the 80-95% emissions reductions targets by 2050 is "absolutely key", Global Wind Energy Council (GWEC) Secretary-General Steve Sawyer claimed it has not yet worked as a driver for investments in the renewables industry.
"We in the wind industry look forward to the day when the ETS works as a driver for investment. We hope it will one day", he said drily.
Josche Muth, Deputy Secretary-General of the European Renewable Energy Council (EREC), said that "the ETS has not been able to respond to the crisis – there are about 800 million spare allowances in there", adding that renewable energies are much more effectively avoiding millions of tonnes of carbon emissions.
Hedegaard defended the ETS, saying "It's simply wrong to say the ETS was not able to handle the crisis. Can you imagine a market based system where the price wouldn't drop during a financial crisis?"
She also stressed that "We should start to invest more […] in the needed infrastructure to make sure we get enough energy from renewables" and that "the wind industry has a key role."
Pressed by Sawyer to explain how carbon capture and storage (CCS) could contribute to a fully decarbonised power sector, the Commissioner spoke about its role in reducing greenhouse gases in some sectors of the economy, and said it could be a cost-efficient solution "by 2035".
Read more about 100% renewables in 2050 in the latest Wind Directions.
Read what EU actions EWEA is calling for in its press release.
Find out more about the EWEA 2011 Annual Event.