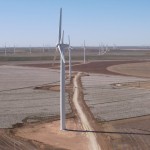 Much has already been written on the transformative power of wind energy – revitalising declining towns and harbours with new employment and industry.
Sweetwater, Texas, is no exception. Texas leads the US for wind energy installations, with 9,410 MW of installed capacity at the end of 2009. The wind turbines that now dot many of the wide Texas plains have brought money and as many as 10,000 jobs to the Lone Star State, reports the latest Wind Directions.
Signs of this new "wind rush" are everywhere near Sweetwater — from the ubiquitous turbines, to the cover of the local phone book that features a galloping horse and a turbine, to the local newspaper that promotes wind turbines as part of its logo, to the corporate identity of Sweetwater town itself.
"We have people out here who have been able to save their farm or ranch because of the wind income", says local lawyer Faith Feaster.
Read more in November's Wind Directions.