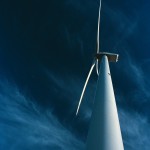 It's a sure bet that when people descend upon Berlin next week for the grids conference that the European Wind Energy Association has organised, delegates attending the event will still be buzzing from recent timely news out of Brussels.
Those attending the two-day conference — "GRIDS 2010: the backbone of Europe's energy future" — will almost assuredly be discussing Wednesday's communication from the European Commission that €200 billion is needed to upgrade Europe's gas and electricity grids over the next 10 years.
Some of the chatter around the coffee tables will also probably focus on another Commission communication — released on 10 November — which noted that the European Union is unlikely to achieve its 2020 targets without regional energy investments in the order of €1 trillion over the next decade.
That's big money in anybody's book. The two communications make a clear case, however, that there is no other choice if Europe is to remain competitive, finally have a well-functioning single energy market that can promote greater use of wind power and other renewables, and do its bit to fight climate change.
"Adequate, integrated and reliable energy networks are a crucial prerequisite not only for EU energy policy goals, but also for the EU's economic strategy," the 17 November communication noted.
"Developing our energy infrastructure will not only enable the EU to deliver a properly functioning internal energy market, it will also enhance security of supply, enable the integration of renewable energy sources, increase energy efficiency and enable consumers to benefit from new technologies and intelligent energy use."
GRIDS 2010 is aptly timed. Not only does it come just after these two major pieces of news from Brussels, but the opening day will coincide with the launch of the Germans' DENA 2 study on integrating renewable energy into the grid in Germany. EWEA is also to launch its own report next Wednesday at the event: 'Powering Europe: wind energy and the electricity grid'.
People participating in GRIDS 2010 — more than 490 delegates are already registered — will be busy exploring the technical, policy and regulatory issues that will shape the development of a grid system that can meet Europe's energy, consumer and climate needs in 2050.
They'll also be chatting about how much it's going to cost to build those electricity super highways that should help keep Europe's future firmly in the driver's seat.
More information on GRIDS 2010: www.ewea.org/grids 2010
Are you coming to GRIDS 2010? Senior communications officer Sarah Azau and communications officer Chris Rose will be blogging from there. If you have an idea for a blog post, come and find us in the press room, or email us – Sarah can be reached at: [email protected], and Chris can be reached at: [email protected].