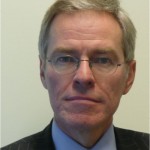 It is imperative that people approve of and share in the benefits of wind energy and other power-generating technologies if Europe is to reach its target of decreasing greenhouse gas emissions by at least 20% compared to 1990 levels by 2020.
That was the main message coming out of a lively debate that took place during the Committee of the Region's Open Days, Hans van der Loo, Shell's Vice-President of European Union Liaison, said in an interview Wednesday.
Van der Loo, who made closing remarks at Tuesday's debate, said it is important that Europe work harder at encouraging public support for emissions-free wind power and other renewable technologies in order to deal with NIMBYism.
He said the estimated 140 people who attended the Brussels debate — called "Not in my backyard? Can Europe win public acceptance of low-carbon infrastructure projects?" — heard that resource demand growth and climate change are the two main challenges facing humanity today.
Reducing energy demand through improved efficiencies, lessening the CO2 content of energy demand and finding solutions for the CO2 that continues to be emitted are the core elements of meeting the challenges, he said.
People attending the debate watched a slide show presentation by Ron van Erck, policy officer, DG energy, European Commission, which examined benefit sharing mechanisms as a way of building public acceptance in renewable energy projects.
Those mechanisms include funding community common projects, giving grants or shares to members of the local community, compensating for any damages, providing improvements to local communities during the construction period, hiring local residents, and reducing the price of energy.
Among those taking part in a panel discussion was Connie Hedegaard, European Commissioner for climate action.
Van der Loo said one of Hedegaard's messages was that wind power is one of the renewable energy technologies that requires active public acceptance and benefit sharing.
He added it is vital that CO2 reduction objectives not be watered down even if governments, corporation and citizens are continuing to deal with the ongoing financial and economic crisis.