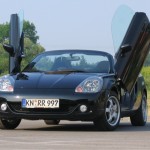 Wind power received another high-profile vote of confidence recently in Ohio, USA with the news that a Toyota car dealership has decided to power part of its commercial enterprise with wind energy.
George Kauffman, vice president of George Byers and Sons, told a local television station he hopes the dealership's 25-metre-tall wind turbine sets an example for other businesses that also want to mitigate their environmental footprints.
"It's the future of how our children are going to live, it's going to lower our carbon footprint and keep it a better, cleaner world for everyone," Kaufman was quoted as saying by 10TV.
The turbine is expected to provide up to 15% of the dealership's power, the TV station said, adding Byers is also setting up a second wind turbine at its Mazda dealership near Columbus.
"It kind of started as a little bit of a joke, and it steamrolled and became a little bit more serious and here we are today," Kauffman told the station.
Byers wants to have the turbines at both dealerships up and running by November.
The station noted a local contractor with Renier Construction, which is building the Byers' turbines, said commercial wind turbines could become quite popular.
"If companies can produce their own power, and control their own costs, that's going to be big with businesses in the future," the station quoted Mike MacKay as saying.
Although the Byers' turbines are not designed to compete with the tremendous generating capacity of industrial-scale wind farms, they are indicative of a growing trend by businesses to tap into the many benefits of wind power.
Within the past year, for example, both Google Inc. and Ikea have announced that they will be incorporating emissions-free wind power into their energy portfolios.