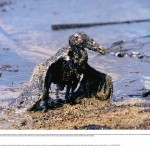 In the heart of the EU quarter in Brussels is a stunning new photography exhibition displaying the most harrowing images of climate change in our world today.
At the foot of the European Parliament in Place du Luxembourg, the 80-metre long exhibition designed by Mark Edwards is based on Bob Dylan's prophetic song 'A Hard Rain's a-Gonna Fall'.
From birds covered in oil – the result of oil tanker or rig disasters, to barren land that was once pristine forest, there are images that are sure to make you sit up and think about the impact our modern, fossil-fuel and environmentally-damaging ways can have on our delicate planet.
Running for two weeks and open all day from 13-25 September, be sure to take a look at this exhibition with more than 40 large and striking photos. This exhibition has already been viewed by over 12 million spectators in more than 50 cities around the world. It highlights the global problems we need to solve: habitat loss, the wasteful use and unsustainable use of resources, pollution, and above all, climate change.
This Sunday (19 September – Car Free Sunday in Brussels) the exhibition's creator, Mark Edwards, will be at Place du Luxembourg from 12.00-17.00 to answer your questions. So jump on your bike and come to see the exhibition and meet Edwards and some of the EWEA team.
The Hard Rain exhibition is part of EWEA's 2010 Breath of Fresh Air campaign.