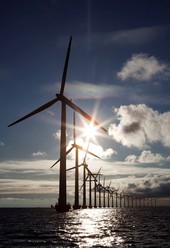 Harnessing offshore wind would be cheaper for the U.S. than continuing to drill for oil and gas off the Atlantic coast and it would also create more jobs, according to a new report issued this week.
An analysis by Oceana, an international organisation focused on ocean conservation, also found that a modest investment in offshore wind could supply almost half the current electricity generation on the East Coast.
The report, called "Untapped Wealth: The Potential of Offshore Energy to Deliver Clean, Affordable Energy and Jobs," noted that the disastrous consequences of the April oil rig explosion and leak in the Gulf of Mexico underscore the high costs of heavy U.S. reliance on fossil fuels.