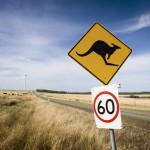 Slow off the mark to harness its significant wind energy potential, recent news reports suggest Australia appears to finally be getting serious about tapping into the many benefits of emissions-free wind power.
Just last Thursday, AGL Energy Limited (AGL) and Meridian Energy (Meridian) announced they have entered binding contracts to construct a 420 MW wind farm at Macarthur in the southwest of the state of Victoria at a total capital cost of AUS$1 billion.
According to a AGL press release, the Macarthur wind farm will, upon completion in early 2013, be the largest in the southern hemisphere, and one of the largest in the world.
Formally launched by Victoria Premier John Brumby, the wind farm near Hamilton, 260 kilometres west of Melbourne, will feature 140 Vestas V112-3.0 MW wind turbine generators.
"This $1 billion project will help cut emissions, create new jobs and provide clean energy for Victorians," Brumby said in the release. "Attracting a renewable project of this scale to Victoria is yet another example of how Victoria is leading the way towards a clean energy future."
The release noted the Macarthur wind farm will have the capacity to power more than 220,000 average homes and replace more than 1.7 million tonnes of greenhouse gases every year — the equivalent of taking more than 420,000 cars off the road annually.
It also said that approximately 400 direct jobs will be generated at the peak of construction, as well as another 800 indirect jobs. About 30 full-time staff will be employed permanently after construction.
Also last week, details of a major new study suggest Australia could switch completely to renewable energy within 10 years by building 12 massive solar power stations and between 6,500 to 8,000 wind turbines in 23 sites.
The Zero Carbon Australia Stationary Energy Plan asserts that the nation's future energy needs can be reliably met by combining energy efficiencies with a massive expansion of wind power and a shift to Concentrating Solar Thermal (CST) with molten salt storage. The two power-generating technologies would be backed up by biomass and existing hydro.
The plan will need an investment of about $37 billion a year over the next decade. About $72 billion would be invested in wind power, while $190 billion would be earmarked for CST. A national grid would also be created at a cost of $92 billion, the plan added.
Meanwhile, according to a report last Tuesday in the Cooma Monaro Express, the Boco Rock wind farm at Nimmitabel, a $700 million, 270 MW facility which is the second largest in New South Wales, has been approved by the state government.
That's all good news considering the Global Wind Energy Council's 2009 annual report noted that Australia's 51 wind farms at the end of the year brought installed national capacity to only 1,712 megawatts, which represented 1.6% of the nation's electrical demand.
Having said that, it looks like Australia has at long last realised how much of a contribution wind power can make to the country.
Interested in how wind power can help re-make Australia's energy portfolio? Post your comments below.