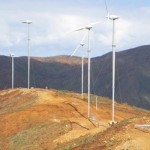 Wind power's little known ability to save precious amounts of clean drinking water in an increasingly thirsty world, when compared to other sources of electricity generation, was raised this month in Science in Africa, the continent's first online scientific magazine.
Written by Dr. Garth Cambray, the article noted wind farms are capable of providing a number of benefits for South Africa as the country begins to look to renewable energies to help meet a growing need for electricity in the next few decades.
Cambray said that wind power consumes no water, which is increasingly an important subject in South Africa. "Installing 30,000 MW of wind power would save the amount of water used by a city of 300,000 people. Given that South Africa has currently technically run out of water and cannot guarantee each citizen their constitutional right to clean running water, this saving of water is very important from a human rights perspective," he said.
"Other sources of electricity, such as coal and nuclear, consume considerable quantities of water," he added.
Using research by the South African Wind Energy Association, Cambray noted wind energy could — with the help of a progressive regulatory regime and strong political backing — provide 20% of South Africa's projected electricity demand by 2025 through a distributed portfolio of wind farms with an installed capacity of 30,000 MW.
While South Africa does have significant wind power potential, by the end of last year, according to the Global Wind Energy Council, the nation had only 8 MW of installed capacity.
Cambray said the wind power sector could create up to 40,000 jobs by reaching a total installed capacity of 30,000 MW. As well, the industry could also save a significant amount of money by displacing more expensive electricity sources dependent on coal and other fossil fuels.
He said the industry would also reduce greenhouse gas emissions — 30,000 MW of wind power would save the nation from emitting 70 million tons per annum of carbon dioxide.
Perhaps South African politicians, as they sit in meeting rooms debating future energy needs while drinking glasses of chilled water, should, like their colleagues in many other parts of the world have already done, turn to wind power to help drive a much-needed green electricity revolution.
What should policy makers in South Africa do to take advantage of the many benefits of wind power? You can make your comments below.