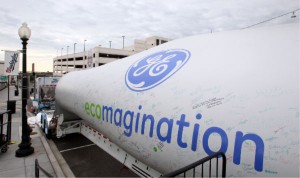 Pressure continues to mount on US lawmakers to use wind power and other renewables as a way of increasing the nation's energy security, lessening its dependence on expensive, imported and polluting foreign oil, and creating a sustainable clean energy future.
A petition in the form of a 40-metre-long wind turbine blade arrived in Washington just before President Barack Obama and congressional leaders met on Tuesday at the White House to discuss energy policy.
A GE Energy press release said more than 6,000 people had signed the petition, which was delivered by the company and the American Wind Energy Association, as it made its way across 10 states to Washington.
"Manufactured in South Dakota, the wind turbine blade symbolizes how clean energy creates new U.S. manufacturing jobs in addition to providing clean power for America's homes and factories," said Vic Abate, vice president for renewables at GE Energy.
Destined to be part of a 1.5-MW wind turbine, the blade traveled more than 6,440 kilometres and was parked in front of the Nationals Park. It carried the message: "I'm helping to build America's energy future," issuing a call to Congress: Create More American Jobs by Enacting Clean Energy Policies This Year.
The press release also noted that one 1.5-MW wind turbine produces enough energy to power approximately 400 households. To generate the same amount of electricity as a single 1.5-MW wind turbine operating for 20 years would require burning 43,500 tons of coal or 138,000 barrels of oil.