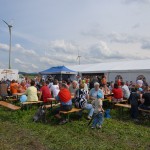 With events taking place all over the country to celebrate wind power, Austria has embraced Global Wind Day. At one of the country's main events, a crane measuring the same height as an average onshore turbine, lifted people up high to get a bird's eye view of a wind farm.
Another spectacle took place in Lower Austria when a professional skydiver leapt from the top of a turbine, opened his parachute and sailed down to the watching crowd below.
Martin Fliegenschnee-Jaksch, from the Austrian Wind Energy Association, said the events that took place last weekend were a "huge success" attracting hundreds of people despite the scorching heat. More events are taking place this weekend in Upper Austria and Burgenland, he said, including a bike tour through a wind park and a wind power-themed cabaret.
The cars of the future – electric cars – were available for the public to try out at various locations across Austria in further celebration of Global Wind Day, and for children, events ranged from music to face painting.
At the main event in St Pöllen, there was a prize draw and the lucky winner won a trip in a hot air balloon over the Austrian countryside.
This week the Austrian Minister of Economics, Reinhold Mitterlehner, will inaugurate a new turbine at an existing wind farm. Fliegenschnee-Jaksch explained that this is significant since it is the first new turbine in Austria to be constructed for a few years.
For more infomation on wind energy in Austria (in German), click here.