Eleven turbine towers, six of which are already connected to the electricity grid providing power to thousands of homes, stand tall and proud on the Levant de Mons plateau near Estinnes, Belgium. It's a grey, cold day when we visit and the wind's obvious strength is turning the blades at a consistent rate of knots.
What's different about these turbines is the sheer amount of power they can produce – at 6 MW each they are the largest ever to be installed on land. Once all these impressive machines are connected to the grid, they will provide power for 50,000 homes – more than enough to keep the lights on in nearby town Mons.
Built by Enercon, these E-126 turbines sit on a 27 metre-large concrete foundation and are connected to the electricity grid via 11km of underground cables. Installing them requires one of the world's largest cranes and hefty lorries capable of transporting the turbine and its components from the factory in Germany to the farm in Belgium.
We pick our way through the pools of mud surrounding the turbines and go inside a turbine tower where the noise of electricity-generation is intense. The tower is 131 metres tall and inside is a panel indicating just how much electricity is being produced at the time, wind speed and direction, and whether or not the turbine is connected to the grid. WindVision, the company developing the project, estimates that annually the Estinnes turbines will produce 187,000,000 kWh of electricity.
Back outside and close-up to the tower, today, the noise is no louder than the sound of the wind or traffic passing on the nearby main road. In addition, turbines are now slowed down at night to reduce sound from the wind turbines reaching residents.
Local children have already adorned the grey towers with wind-friendly messages such as "les éoliennes, c'est cool," and "je suis folle des éoliennes."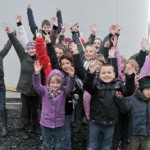 Once the Estinnes park has been completed, WindVision hopes 6 MW turbines will be installed across Europe.