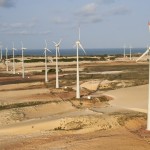 Interest in wind power in tropical Nicaragua got a boost recently when AEI, an owner-operator of essential energy infrastructure businesses in emerging markets, bought a controlling share of the largest wind plant operation in Central America.
The 63 MW Amayo I and Amayo II wind plants provide approximately 8% of the total power consumed in Nicaragua, which has a population of 5.9 million and is the poorest country in Central America.
Located on the shores of Lake Nicaragua 11 kilometres north of the Costa Rican border, the Amayo plants are expected to displace more than 400,000 barrels of imported oil per year and reduce around 175,000 tonnes of CO2 annually. A press release says the two-phase Amayo project has already helped lower electricity prices for the country in addition to providing environmental benefits.
AEI, which has nearly 15,000 employees, bought a 47.5% interest in each of the two wind farms from Arctas Capital Group, and a 47.5% interest in the Amayo II project from its partner Centrans Energy Services Holdings. AEI and Centras now have a 95% share in Amayo, which is reported as representing an investment of approximately US $150 million.
"AEI is excited to be adding our first renewable energy project to our portfolio of consolidated power generation assets," Jim Hughes, CEO of AEI, said in a press release.
"This project adds competitively priced and much needed electricity to the local power grid, and also serves to complement our existing thermal power generation assets in Nicaragua. We strive to bring the best energy solutions to our customers and are delighted to be adding an energy source that does not rely on imported fuels."
A much smaller, local-level wind energy project is also getting off the ground in the Nicaraguan village of Cajiniquil thanks to the Koru Foundation, which sets up renewable energy projects in poor countries to give communities access to electricity.
An integrated hybrid wind and solar PV system, consisting of a 1kW locally constructed wind turbine and 300W solar panels, the project will supply the 13 households in the village with a clean, renewable electricity supply for powering electrical lights, powering a water pump to provide the community with a supply of clean water, and improving services at the school, health and community centres.
For more information: www.korufoundation.org