San Diego-based wind power developer Cannon Power Group and Gamesa Technology Corp. Inc. have agreed to build a series of huge wind farms known as the Aubanel Wind Project in Baja California about 25 kilometres south of the US-Mexico border.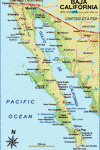 The deal reportedly would see the installation of up to 500 wind turbines near the town of La Rumorosa in a region recognised as having one of the best wind resource areas in North America. Construction is expected to begin within 12 months and the project, which could cost up to $1 billion, will be built in phases over the next three to four years.
"This will be a win-win for Mexico and the United States — the clean power and jobs will be shared on both sides of the border," Gary Hardke, Cannon's President and Managing Director, said in announcing the project.
"We envision this as a major cross-border project — potentially in excess of a billion dollars — that can both stimulate the region's economy and provide enough clean energy for over 250,000 households."
A Cannon statement said the Aubanel Wind Project is expected to be one of North America's largest wind farms with a potential capacity of 1,000 MW at various stages of development. The first phase of the project calls for the installation of between 70MW to 100MW of wind turbines.
Power produced from the initial phase of the project is expected to be sold to customers in Mexico first. While the project is expected to create substantial employment and economic development opportunities in Baja California, much of the equipment will likely come from the US where Gamesa has manufacturing facilities.
Dirk Matthys, Gamesa's CEO in North America, described the agreement as exciting and said it "will further strengthen Gamesa's leadership in the Mexican market where we already have a substantial presence."