EWEA Annual event (formerly known as EWEC)
14-17 March 2011, Brussels, Belgium
Event photos
Event numbers
9,000+

Number of participants

445

Leading exhibitors

500

Presentations

200

Expert speakers

40

Quality sessions
Event News
Towards more sustainable events - spotlight on EWEA 2011:
Total score of 62% against industry average of 44%
89% of event waste was recycled
100% of the exhibition hall carpet (31,340m²) was collected and recycled
60% of all food served was sourced locally
3,000 public transport tickets distributed to participants
€9,000 donated to Renewable World for wind powered water pump for farmers in Mozambique
Read the EWEA 2011 sustainability report (PDF - 1.4MB)
Wind Directions March 2011 - Keeping the Momentum
The target year of 2020 is coming up fast and 2030 is just around the corner. A new fuel power plant can expect to run for 35 years or more. What needs to happen next, what will our energy investment choices be, and what difference will they make?

200 top speakers
300 specialist presentations
40 high-quality sessions

All aspects of wind covered!
See you next year in Copenhagen!
---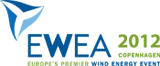 Event videos
---
Questions
---

+32 2 213 18 00

[email protected]
Platinium media partners
---

Sponsors
---