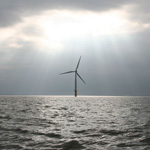 While the US wind power sector is currently facing challenges from the ongoing economic crisis and political uncertainty over whether politicians will extend the industry's largest tax incentive, it received some more positive news recently: the nation's first proposed offshore wind farm does not pose a threat to aviation.
Last week's announcement by the Federal Aviation Administration (FAA) is thought to clear the last federal, state and local regulatory obstacle holding up development of Cape Wind, a controversial 130-turbine wind farm to be built off Cape Cod in Nantucket Sound.
"The proposed wind turbines do not exceed obstruction standards and do not have a physical or electromagnetic radiation effect on the operation of air navigation facilities," the FAA ruling concluded.