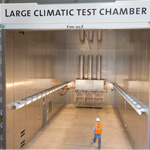 A large climatic chamber which can test offshore wind turbine components in extreme  temperatures ranging from -60 degrees Celsius to +60 degrees was unveiled in Antwerp on Thursday as part of a new research and development facility.
An element of the Offshore Wind Application Lab (OWI-Lab), the climate chamber, is housed inside a structure in Antwerp's port area. It is capable of testing mechanical, hydraulic and electrical wind turbine components such as gearboxes, generators, yaw systems and transformers weighing up to 150 tonnes.
Typical activities will include design verification, component validation, prototype testing and cold start tests. In addition to the chamber, with dimensions of 10m x 7m x 8m, OWI-Lab will house the tools needed to perform a myriad of dedicated research and development  tests.