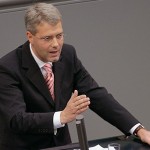 Norbert Röttgen, German Federal Environment Minister, has thrown his backing behind developing more offshore wind farms in Germany. Röttgen announced today that offshore companies can rely on debt guarantees from the governemnt to secure the financing of "10 mega projects" in the North and Baltic seas up until the end of 2011.
The announcement signals a stronger than previously thought support for wind energy from Röttgen, German newspaper the Spiegel said.
Under the plans, 10,000 MW of offshore wind farm capacity will be built within the next 10 years, and 25,000 MW in the next 20 years.
"I believe that we can reach nearly 100% renewable energy by 2050, and wind power will provide about 50% of this," Röttgen said in an interview with the Hamburger Abendblatt.