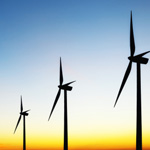 Right at the end of last year, on 29 December, wind power in France covered a record 10% of the country's electricity demand, the French blog "habitat durable" reported. France's wind power fleet reached a power production equivalent to 5,982 MW – the same level as six nuclear reactors.
During the month of December in general, wind energy met 4% of France's electricity needs, and in 2012 the average level was 3% – meeting the electricity needs of 6 million people.
"Wind energy production during recent weeks illustrates the characteristic trait of French wind energy: every year, wind energy production is higher during the coldest months," the blog said.