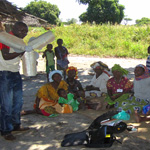 In Mozambique, nine people in ten have no access to electricity. Yet the village of Mipandi now has electric light for the first time thanks a wind-based micro-grid blue-print set up by EWEA's chosen charity, Renewable World with local partners, The Clean Energy Initiative (TCEI).
"In Mozambique, the expansion of clean and sustainable energy – such as micro wind power – offer clear advantages in addressing climate change and energy poverty", says Jason Morenikeji from TCEI. He adds that Mozambique has 2,800km of coast-line, many inland lakes and highland which contribute to its localised wind patterns.
Having electricity for the first time ever can revitalise the whole community. Morenikeji recalls a time on an island off the Mozambique coast where he installed a solar PV-powered security light.
"At sun-set on the first day, some kids came to play in its light. After a while, other people gathered to talk and share stories. With time, some street vendors came to sell snacks and soft drinks, someone brought some seats…a whole vibrant street night-market emerged in three to four days. It was amazing, just from having one artificial light at night."
Renewable World and TCEI hope that the project will be replicable in other communities.
"I want to demonstrate that social entrepreneurship and innovation can provide market-based innovative renewable energy products and services that can be profitable and scaled-up," Morenikeji says. "I'm also hoping TCEI can help equip individuals with a sustainable and valuable infrastructure, localised capacity building and income generation skills."
For the last few years EWEA has been supporting the work of UK-based charity Renewable World. Renewable World tackles poverty in developing countries, working with local partners to provide affordable renewable energy systems (wind, solar, hydro and biogas) for remote off-grid communities.
Read the full article in the latest Wind Directions
More on Renewable World: www.renewable-world.org