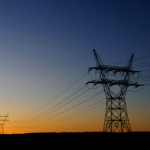 20 October 2011
The European Commission yesterday unveiled a €9.1 billion plan to modernise and extend Europe's energy infrastructure to help meet Europe's climate and energy needs. The announcement was widely covered by the media.
"This is the very first time that the EU is co-financing the construction of large energy infrastructure from its regular budget," the Commission said.
EU affairs website Euractiv reported that the money will be made available under the proposed EU budget for 2014 – 2020 "in the form of newly-minted project bonds, grants and loan guarantees." These will be awarded to projects of 'common interest' – i.e. spanning at least two EU countries.