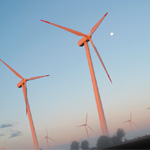 One of the most interesting recent stories that brings together the past, present and future has come out of Vietnam with an announcement that the Mekong Delta would soon be using wind turbines to meet its growing energy needs.
According to news reports, Cong Ly Company Ltd. and GE have signed a contract to develop the first phase of the Bac Lieu Wind Farm, which will total 16 megawatts of power capacity.
Business Wire reported that the Bac Lieu wind farm, located about 200 kilometres southwest of Ho Chi Minh City, will be the first wind facility in the Mekong Delta.
An area rich in biodiversity, the Mekong Delta is situated in southern Vietnam and is a major seafood centre that also produces close to half of the nation's annual output of rice.
"This will be the first large-scale industrial/energy project in Bac Lieu province, which has huge potential in wind energy, along with agriculture and seafood farming," Business Wire quoted To Hoai Dan, chairman of Cong Ly, as saying.
"We expect that the project will help to improve the social and economic conditions of the province by creating new jobs requiring technical and industrial skills, while producing much-needed power. We also hope this first large-scale wind farm project will help to attract more investments into the Bac Lieu province in the future."
Business Wire also reported that Cong Ly has plans for a second phase of the project, which would add up to 120 megawatts of power to help resolve the country's chronic power shortages.
According to Vietnam Business News, the nation is boosting investment in developing wind power to replace exhaustible fossil fuels and protect the environment.
The government has said the nation now has 42 wind power projects with a total capacity of 3,906 MW, Vietnam Business News reported, adding by late August wind power projects are to be exempted from import tariffs of foreign-made materials as well as being eligible for subsidies.