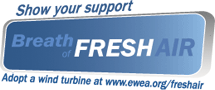 The winter is fast approaching and so is the end of EWEA's 2010 campaign to get as many turbines adopted across Europe as possible. So far, over 3,000 of you have adopted a turbine and more than 4,000 of you have voted in our competition to win a trip to a wind farm.
Spain is the leading country with over 400 turbines adopted, just trailed by Italy with 375 adoptions. The UK has 348 turbines adopted, while France is just under with 341 adoptions.
With two top prizes available – a weekend break in Copenhagen including a visit to a wind farm and a two-day break in the Swiss Jura Mountains including a trip to a wind farm and a snow-shoe tour if it snows – it is not surprising that the voting contest has taken off with a bang. Some turbine adopters have managed to gather over 400 votes putting them in good stead for the prizes.
If you still haven't adopted your very own turbine, there's plenty of time to do so – by the end of December 2010. Give yourself the chance to win one of the two trips abroad by encouraging all your friends and family to vote for your turbine. Visit our campaign website and adopt now!