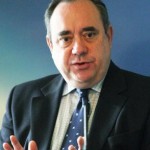 The quickly developing offshore wind power sector may soon be opening an exciting new chapter with the news that Scotland wants Norway's largest energy corporation to use its waters to develop the world's first floating wind farm.
Scottish First Minister Alex Salmond met Statoil officials last Monday to discuss a proposal by the company to commercially test its Hywind floating turbines in deep water either off the coast of Lewis or Aberdeenshire.
A government of Scotland press release noted Statoil has already constructed a full scale 2.3 MW prototype Hywind unit, anchored 10 kilometres offshore at Karmøy in Norway, in waters up to 200 metres deep.
The floating wind turbine, which is suitable for water depths up to 700 metres, is performing beyond expectations and has delivered power to the grid since September 2009, the Scottish government release said, adding the next stage of the project could involve constructing between three and five Hywind units to test the commercial viability of the concept.
According to Statoil, the company is also considering waters off Norway and Maine to further test the Hywind floating turbines. A decision on which site is selected will be made sometime next year.
In Norway to lobby for the Hywind units to be placed in Scottish waters, Salmond asserted the country has unrivalled marine resources.
"With massive offshore wind potential, we are leading the way in the generation of clean, green energy from the sea," Salmond said in the release. "Our waters are estimated to have as much as a quarter of Europe's potential offshore wind energy and we are perfectly positioned to develop the technology that will power this remarkable renewables revolution."
He also said offshore wind power can prompt an estimated £30 billion in investments and create up to 20,000 Scottish jobs, while cutting greenhouse gas emissions and delivering energy security.
"It is critical that we exploit every opportunity — a recent study suggests that harnessing just a third of our practical resource off our coast by 2050 would generate enough electricity to power Scotland seven times over," Salmond added.