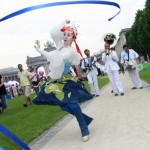 Despite a couple of heavy down-pours, the EWEA stand at the fête de l'environnement in Brussels on 6 June attracted plenty of people keen to learn more about wind energy and pick up a free mini windmill or packet of Frisk mints. The sun did definitely make an appearance, with Global Wind Day caps flying off the stand during the first half of the fête.
Visitors asked the EWEA team questions about the forthcoming Global Wind Day, and told us they were impressed to see the turbine blade in the middle of the rond point Schuman near Parc du Cinquantenaire in the EU quarter.
A 10-person wind instrument band, including an acrobat, made a special appearance, entertaining the crowd with songs including Bob Dylan's famous 'blowin' in the wind'.
For those of you who missed out, be sure to see what's happening near you this weekend and the following week for Global Wind Day!