As hundreds of millions of excited people watch 2010 FIFA World Cup action next month, a newly-erected wind turbine is expected to be churning out power for one of the 10 stadiums hosting the football matches in South Africa.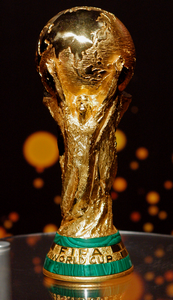 The Nelson Mandela Bay Stadium in Port Elizabeth is to receive power during the World Cup between 11 June and 11 July from the first of 25 turbines set up by Electrawinds at the Coega wind farm project in Eastern Cape province.
According to Engineering News, Emil Unger, Electrawinds' South African representative, said earlier this week that the first turbine, which will have a  capacity of 1.8 MW, would provide power to the stadium free during World Cup matches. "It's our way of giving back to the city," Unger said, adding the official switch-on date is 30 May.
Electrawinds' MD Luc Desender told Engineering News that the company has already laid the foundation work for the Vestas wind turbine, which arrived from Denmark on Sunday. Completion of the wind farm is expected in 2011. Desender noted the start of construction marked the first commercial wind project in South Africa and is Belgium-based Electrawinds' first operational project outside Europe.
That the Beautiful Game — as football, or soccer, is often called — will be helped out by emissions-free wind power is, frankly speaking, something to celebrate, even before the highly-anticipated World Cup begins.