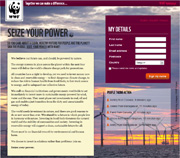 Government and financial institutions around the world must pledge to invest at least US$40 billion (€30.6 billion) in renewable energy over the next 12 months as a way of fighting climate change, according to a campaign launched this week by the environmental NGO the WWF.
"We are running out of time," says Jim Leape, director general of WWF International, launching the campaign Seize Your Power. "We know that if we continue to rely on fossil fuels we will face a future of worsening air pollution and an increasingly inhospitable climate. It is now our collective responsibility to commit to the future we want. We call on political and financial decision-makers to seize their power to make the switch to clean and sustainable renewable energy and end the inertia of coal, oil and gas."
Anyone and everyone can sign the pledge on the WWF's website to encourage governments and financial institutions to put their money where their mouth is, and promise greater funds for wind, solar and water power. The campaign will run in 20 countries around the world and be targeted at public finance, pension funds and sovereign wealth funds.
According to Samantha Smith, leader of the WWF's global climate and energy initiative: "The energy markets' driving forces include speculation, institutional inertia, lack of accurate information, perverse incentives, but also huge economic and political interests". She adds: "It's time to reframe the debate and expose the real costs of fossil fuels and the real opportunity of the renewable energy sector. The call to action we're launching today is an invitation to every decision maker to invest in the future we want – one that is powered by clean, renewable and sustainable energy".
With world leaders meeting in the UK for the G8 summit later this month, WWF aims to keep the pressure on in the coming weeks joining EWEA in targeting this year's summit with its Facebook app calling for an end to fossil fuels subsidies and a shift to renewable investment.
This shift is necessary for the environment, human health, energy security and the economy. Meanwhile, a recent report by the Health and Environment Alliance (HEAL) showed that coal-fired power stations cost the European Union up to €42.8 billion a year in health costs.
Regarding the continued investment by the EU in nuclear and fossil fuels, EWEA CEO Thomas Becker said: "keep in mind that what is cheap energy today will not necessarily remain cheap tomorrow. In the past, we have time and again underestimated the development of the oil price. Given that the European continent possesses no significant fossil energy reserves, and is already importing more than half its energy, it would be a high-risk game, both from an economic and from a security policy point of view, to base our long-term energy strategy on what is cheap here and now."