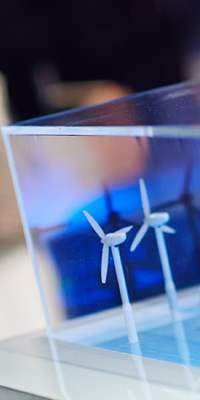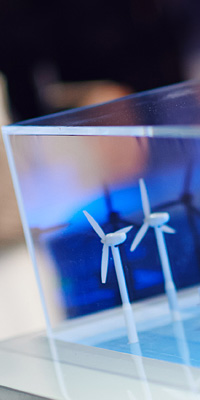 When: 17 – 20 November, 13:30 – 14:15
Where: Lunch Area
EWEA and MHI Vestas Offshore Wind are proud to host a series of inspirational debates tackling some of the world's most challenging issues. Topics like urbanisation in megacities, mega trends, climate change and its impact on business, disruptive technology and much more will be covered.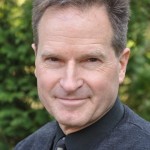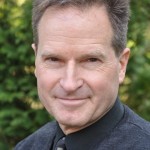 Euronews anchor Chris Burns will be leading the discussions and taking the debate to a new level with The Visionary Debate Series taking place every day in the lunch area of the exhibition floor.
Join us for engaging discussions with high-profile thought leaders on these dates:
Tuesday 17 November at 13:30 – 14:15

The future of urban environments – with Claire Roumet, director, Energy Cities
We will explore how urban centres will change over the next decades: what trends are at work, how will transportation, housing, urban planning look like in 10-20-30 years' time? Where does (wind) energy fit in here?
Wednesday 18 November at 13:30 – 14:15

The future of energy – with Prof. Marc Oliver Bettzüge, Managing Director, Cologne Institute of Energy Economics and Michael Wilshire, Director of Analysis, Bloomberg New Energy Finance
We will explore how the energy landscape will look like over the next decades, and what changes are already in the making. What will be the impact of the potential revolution that technologies such as storage and demand response on the way we produce, distribute and consume energy? Is a 100% renewable energy world around the corner? What are the challenges?
Thursday 19 November at 13:30 – 14:15

Business and climate change – with Sandrine Dixson-Declève, head of EU office, Cambridge Institute for Sustainability Leadership, Rui Texeira, CEO of EDP Produçao and Vanessa Miler-Fels, Energy Portfolio Manager at Microsoft
We will have a look at the impact of climate change on business, how it changes the game and challenges attitudes, what opportunities and what risks it bears: is business as usual still an option? Can cleaner and smarter technologies save our way of life? Or do we need to change business practices and attitudes? What can businesses achieve that governments can't? What type(s) of business will succeed in tomorrow's world?
Friday 20 November at 13:30 – 14:15

The future of industry and manufacturing – with Claus Kjeldsen, CEO, Copenhagen Institute for Future Studies
How will manufacturing and industry be transformed by disruptive technologies and processes, such as 3D printing or the rising popularity of collaborative or sharing approaches to business? How will we produce goods in 2050? Will manufacturing become as decentralised as energy production is likely to get? What will the factory of the future look like?