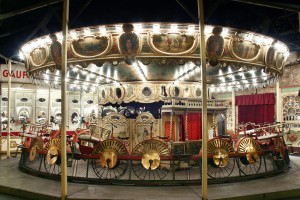 When: Thursday 19 November, 19:30 – 23:00
Where: Musée des Arts Forains, 53 avenue des Terroirs de France, 75012 Paris
Join a select group of wind-industry professionals for a magical evening in the spectacular Musée des Arts Forains Funfair Museum. The museum, located in the heart of the Bercy neighbourhood in Paris, within ancient wine warehouses built by Gustave Eiffel's apprentice is home to thousands of objects, among them antique fairground artefacts bringing you back to an elegant and ethereal era.
Be prepared for an evening filled with rich heritage, you will dine, drink and be entertained amongst carousels, intricate musical instruments and games, finding yourself in an unique contrast between tradition and modern day.
Coaches will depart at 18:30 in front of the main entrance.
This event is now at maximum capacity, however, if you wish to be notified when space becomes available, please email [email protected].
Sponsored by: