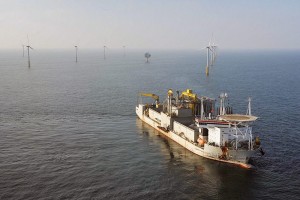 When: Wednesday 11 March, 9:00-10:30
Where: Meeting Room 18
In this side event, executives from the Danish Wind Industry Association, Danish Ports, Danish Shipowners' Association and other major stakeholders in Denmark will meet with members of the Danish Parliament to discuss long-term future growth of the offshore wind sector in Denmark.
Part of the reason Denmark has been able to become a forerunner on offshore wind is due to the regulatory framework conditions put in place for the industry early on.
Now, the Danish offshore wind industry is increasingly facing competition from other northern European nations – as well as from Asia.
But industry development needs to continue if we are to keep up with pacesetters in and around the North Sea. We need to better ourselves on several fronts: not only do we need to be better at producing the best quality components and at reducing the CoE, but we also need to be much better at creating the right conditions for growth for our national industry to remain competitive.
Who should attend?
This side event is open to all registered event participants. No additional registration required.This seminar is targeted towards industry, public and government officials and all other offshore wind stakeholders with an interest in the framework conditions for the industry in Denmark.
NB: The seminar will be conducted in Danish.