Back to the programme overview

Print
Tuesday, 10 March 2015
09:30 - 11:00 EWEA OFFSHORE 2015 opening session (open to exhibition visitors as well as conference delegates)


Plenary

Room: Auditorium (A10, A11, A12)
Welcome:

Markus Tacke, Chairman, EWEA and CEO, Siemens Wind Power
Keynote Speeches:

Frederik, Crown Prince of Denmark

Rasmus Helveg Petersen, Minister for Climate, Energy and Building, Denmark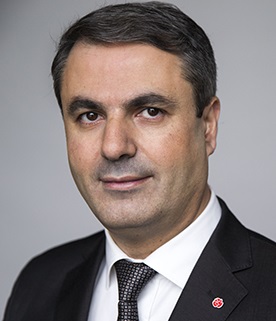 Ibrahim Baylan, Minister for Energy, Sweden
Responses from the Event Ambassadors:
Claus Hviid Christensen, Vice President and Member of the Executive Committee, DONG Energy Wind Power
Jens Tommerup, CEO, MHI Vestas Offshore Wind
Security of supply in the European Energy Union:
Martin Lidegaard, Minister for Foreign Affairs, Denmark
Conclusion:

Thomas Becker, CEO, EWEA
Thomas Becker
CEO, EWEA
Introduction

Our events are your events!
Like what you see? Is something missing? Have an idea for an interesting format for this session? Click here to send us an email with your questions and comments, and we'll pass it on to the Track Chair!