Wind Directions
Wind Directions, published four times a year by the European Wind Energy Association, is the leading European wind industry magazine. It has been reporting on the wind industry since 1978 and has over 27,000 subscribers in the wind industry.
The magazine offers more quality information on EU policy than any other renewable energy magazine, as well as more incisive regular interviews with key political and industry figures. It provides clearly written, expert insight into wind energy technology, industry and on EWEA's activities, as well as in-depth commentary and analysis of the issues relevant to the energy industry.
Wind Directions highlights the benefits of wind power and positions it as the leading technology in transforming the global energy supply structure towards a truly sustainable energy future based on indigenous, non-polluting and competitive renewable energy technologies.
---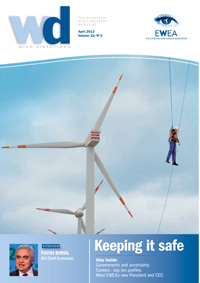 Wind Directions, April 2013
Keeping it safe
Scared of heights? Get sea-sick? Working high up on turbines and out at sea are just two challenges the wind sector faces. What are the other health and safety risks? How can they be managed? Wind Directions takes a look.

Interviews with key policy-makers:
• IEA Chief Economist Fatih Birol

Special features:
• Governments plunge wind sector into uncertainty
• Working in wind? See the most wanted profiles
• Bringing power to east African farmers
....and many more.

Regular articles:
• Brussels Briefing for the latest EU news
• EWEA's columnists voice their thoughts
• Wind News for an industry update
• Country Focus for a national picture
...and many more.

Read this issue of Wind Directions now


---