Conference proceedings
All submitted presentations and audio recordings of the sessions are now available!
Delegates:
If you were a conference delegate at GRIDS 2010 an email was sent to you following the event with details of how to access the full proceedings.
Login to the proceedings section here
If you did not receive this email or are encountering problems please email:
EWEA members:
The proceedings for GRIDS 2010 and all other EWEA events are available free of charge to EWEA members upon request. Please contact Maura Di Ruscio: mdu(at)ewea.org
Non-delegates and non-EWEA members:
For non-delegates and non-EWEA members the proceedings are available for €50. To order please complete the form below and return to EWEA by fax: +32 2 213 18 90.
GRIDS 2010 proceedings order form (MS Word, 113KB)
For all queries relating to the conference proceedings, including the purchase of earlier proceedings, please contact Maura Di Ruscio: mdu(at)ewea.org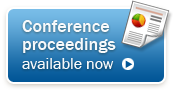 Supported by Friends of the Supergrid
Questions?
+32 2 213 18 00