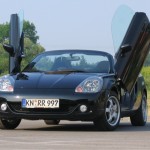 Wind power received another high-profile vote of confidence recently in Ohio, USA with the news that a Toyota car dealership has decided to power part of its commercial enterprise with wind energy.
George Kauffman, vice president of George Byers and Sons, told a local television station he hopes the dealership's 25-metre-tall wind turbine sets an example for other businesses that also want to mitigate their environmental footprints.
"It's the future of how our children are going to live, it's going to lower our carbon footprint and keep it a better, cleaner world for everyone," Kaufman was quoted as saying by 10TV.