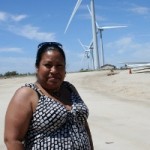 A Native American leader from southern California is promoting wind power as a valuable tool for her tribe's economic development and environmental stewardship strategies.
Monique La Chappa, chairwoman of the Campo Kumeyaay Nation in San Diego County, said on Sunday that the first wind farm the tribe developed was so successful that another wind farm is currently being planned.
La Chappa said in a newspaper article that wind power is clean, creates jobs and wealth, preserves habitat and poses no national security threats.