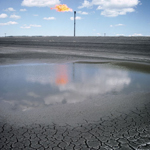 This is an excerpt of a post by Heikki Willstedt, director of energy policy, AEE. To read the full post (in Spanish) click here.
Oil has reached €90 a barrel and, when the embargo on Iran becomes effective, there are analysts who predict it will rise to €100 a barrel. Energy imports cost more in Spain than they do in emerging countries, so we cannot improve either our competitiveness or our trade balance deficit. In Spain there are no indigenous oil resources, but we do have the wind to generate electricity. A Spanish wind turbine of 2 MW generates the energy equivalent to 7,000 barrels a year. Wind is the Spanish oil.
The International Monetary Fund defines an oil shock as a 26% or more increase in the price of oil. We have had three: 2008, 2010 and 2011.  The current price of oil price in Euros is at a historic high. Just remember that in July 2008 a barrel of oil reached €84 a barrel. We are now 7% above the previous peak price.